A letter from Justin, Shira's husband:
Family, Friends and Soon to be Friends:
In my adult life, I have never been good at asking for anything, from anyone. However, now, I have no choice. What I need to achieve requires the commitment and participation of everyone I know, everyone they know, and everyone they know.
I am reaching out for help to give, Shira, the love of my life, the mother of my three beautiful children, Rylie (9), Brayden (6) and Lucas (2) a second lease on life. Shira is fighting for longevity.
As many of you know, Shira was diagnosed with Hodgkin's Lymphoma on New Year's Eve 2010 – just a few weeks before the first birthday of our youngest child while on a family vacation. The news hit us like a ton of bricks. But Shira kept smiling.
We were told "this is the good kind". Of course, with the qualifier that there is "no good kind". The cure rates for Hodgkin's Lymphoma are supposed to be very good.
Like the star she is, Shira endured months of intense chemotherapy without complaint or self-pity. Unfortunately, although there was short period of remission, she quickly relapsed. Shira moved on to the next treatment option, which included a stem cell transplant using her own stem cells. Again, she endured intense chemotherapy and hospital stays of weeks at a time. Again, Shira kept smiling. She met the treatment and the Hodgkin's head on; never complaining, never feeling sorry for herself. From the hospital, she orchestrated car pools, helped with homework via Facetime, even ordered groceries online. She was your typical mom of three kids, wife, daughter and friend. Always there to listen to everyone – and cheer them up; making donations to charities that solicited us through friends, commenting on pictures on Facebook and coordinating our daughter's dance schedule. Ultimately, she underwent the stem cell transplant. Again, a short remission was followed by a relapse.
For the last several months, Shira has been taking a new chemotherapy with the hopes that she will get back into remission and undergo a second stem cell transplant. This time, the transplant requires a donor. That's where you come in.
I am asking you all to test yourself to see if you are a match for Shira – and if not, your efforts may just help someone else's mom, daughter or friend who like Shira is fighting every day. The test is simple. It requires taking a Q-tip and swabbing your check – putting it in a package and sending it off to be tested.
I need your help TODAY; not tomorrow, not next week, but today. Your immediate action could be the needle in the haystack we are looking for.
We are planning local drives in New Jersey and are working with folks around the country in our various networks to run drives in their neighborhoods.
For now, you can go to the following websites to add yourself to the donor registry:
http://www.deletebloodcancer.org
http://www.giftoflife.org
http://marrow.org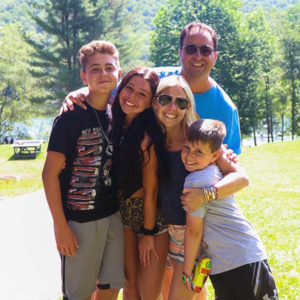 Shira, my family and I thank you for your immediate action. I welcome any information or guidance from those that can share.
Please Help! There will be info. posted soon about drives in your area. It is free and painless, a simple swab of your cheek to enter you into the bone marrow registry. There is a local person, Shira Klein, in need of your help. Please take the time to see if you can save someone's life by doing this small act of kindness. If you can't make it but want to do it, please message me and I will make sure you get information on our future drives or I will personally get a kit to you so that you can be entered into the registry! Please share this information with all of your local friends. Thank you!!!
Keep Smiling.
Justin